Home >> Products >> EPSU Power Supplies & Batteries
EPSU - Power Supplies & Batteries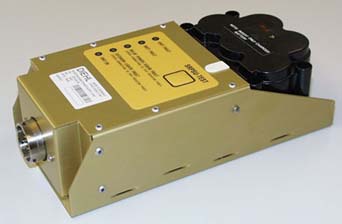 If the normal supply of power to the cabin should be interrupted, the EPSU made by
Diehl Aerospace GmbH
- steps in and supplies DC power to:
Overhead emergency lights in the cabin,
Floor emergency path marking lights, and
Exterior emergency lights
These small units direct the aircraft's normal 28VDC power to the emergency lights, but if that power should also fail, they use their own built-in NiCad batteries to provide power for at least 12 minutes. The units have enough smarts to learn the environment they are operating in and to signal any problems with the lights or the available power.
ELPS (Emergency Light Power Supply) is Swedish for EPSU. That's what Saab calls them.
The batteries are a critical element in this system.
They are assembled from individual cells with carefully matched characteristics - not just by spec, but also in actual production, cell by cell, battery by battery. The battery also contains a heating mat to ensure proper performance, and a printed circuit board provides the control connection to the EPSU. Spare batteries must be charged according to DLE's specifications and stored in a controlled environment. The EPSU ensures that its battery is fully charged at all times.
The basic functionality of all EPSUs is the same, but they differ based on the aircraft environments they
work in.
If you have questions about any of these products - how to maintain them, for instance - please give us a call at 1-814-838-8934 or send us an e-mail. We'll be happy to assist.