Home >> Products >> Franke Aquarotter GmbH Water Faucet Systems
Aviation Water Faucets
Weight and passenger comfort are two mostly conflicting factors in air transportation, and a point where it becomes very obvious is in the lavatory. Water is heavy, so the less you transport, the better. Yet water is an important comfort factor even in the lavatory, and you want your passengers to feel they are getting all they need. For that reason the water faucets on board are very different from the ones in your house. The best ones dispense measured quantities of water, yet make it feel like a lot. Two other requirements:
The faucet should look clean and appetizing to the 50th passenger using the rest room on that flight.

It should not require an engineering degree to operate.
Franke Aquarotter GmbH have combined these requirements into several very attractive series...


---
A380 Lavatory Water Supply System is an elegant, electronically controlled faucet. It's designed for the latest Airbus A380 Super Jumbo, and it is part of a complete system that includes the water heater. It is wall-mounted, lightweight and has a separate control system that communicates with the aircraft's management system. It also has a separate electromechanical thermostat to ensure passenger comfort.
The faucet comes in two primary versions - touch-less activation by a front-mounted infrared sensor, or micro-switch (pushbutton) activation. The system also includes an optional drain control. An LED display shows a water temperature scale, and the passenger can change the temperature using 'warmer' or 'colder' push buttons.
This faucet is the standard from Airbus for all A380 lavatories, but some of the business and first class lavatories may have unique, airline-specific designs from Franke Aquarotter. Be prepared to be pleasantly surprised!
---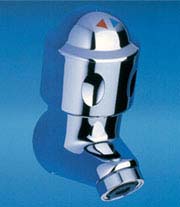 AQUAMIX includes two models of wall-mounted faucets for pressurized water systems. They are the standard on most Airbus aircraft and are now also the standard on Embraer's E170/190 series of Regional Jets, and on Bombardier's CRJ900 Next Generation Jets. These faucets use hydraulic timing elements to meter the amount of water dispensed - usually set for around 10 seconds. Most are used in systems with hot and cold water supply, so they let the passenger choose the desired temperature simply by twisting the activation knob on top.
---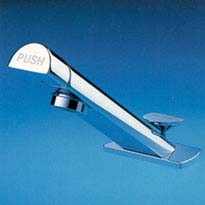 AQUATIMER is a series of desk-mounted (counter-top) faucets for non-pressurized cold water systems. They use an electronic timer to measure the supply and you find them on the Dornier 328 aircraft, but it can also be supplied in configurations with a heated water tank.
---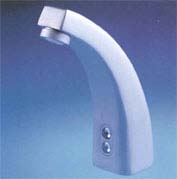 AQUAMAT (pictured at right) is a series of electronically controlled faucets that use an infra-red sensor to turn on, and an electronic timer to turn off. They include a thermostat for premixed water supply and you find them on some Boeing 747-400 aircraft.
---
Erie Aviation, Inc. supplies replacement faucets and all required repair parts - and if you need repairs performed, we are the right address.
Click here for a look at Franke Aquarotter's railway faucets.
Got questions about new products or service? Please call us at 1-814-838-8934 or send us a note, we'll be more than happy to help.